Drilling Rig Manufacturer in China
JINFAN Drilling Equipment Company is a renowned drilling rig manufacturer and supplier in China. Our most popular products include a hydraulic anchor drill rig, hydraulic crawler drilling rig, water well drilling rig, core drilling rig, in addition to a variety of related drilling tools including our DTH hammer, pulling machine, eccentric casing bit and wire-line core barrel. Our drilling machines are commonly used in GSHP systems, engineering geological investigation, water well construction, water conservation, and petroleum and natural gas exploration industries.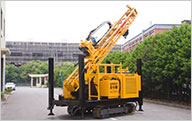 Our team of experienced and talented designers can design specialized drilling rigs to suit customers' unique requirements. We are especially proud of our achievements in engineering our top-of-the-line crawler drilling rig, geothermal drilling rig, and anchor drilling equipment, which can be used in a variety of types of geological strata.
Due to their reliable performance and wide range of applications, the JINFAN YG-80 and YG-60 anchor drilling rigs are often used to create holes for anchoring purposes in many key hydropower stations of China. Our YG-30, YG-50 and YG-60 anchor drilling rig models are extremely popular for subgrade strengthening, so as to prevent landslide disasters, rock collapses, as well as other geological calamities. In addition, JINFAN YG and YGL series hydraulic crawler drilling machines are ideal for side slope and foundation construction, reinforcement in water power stations, and the construction of railways, highways, tunnels, high rise buildings and more. We have designed and developed a variety of equipment to meet the application demands of our customers, such as our core drilling machine, hydraulic percussion drill, and more.
Jinfan is the only manufacturer of a drilling rig suitable for use in geological investigations in China. Our HGD-200 and HGD-300A rigs are frequently used for offshore engineering geological investigations in the South China Sea, the Huanghai Sea, and the East China Sea. They are indispensable tools for the safe and sturdy construction of crossing sea bridges, petroleum pipelines, ports, and more.
JINFAN is ISO9001 and ISO14001 certified, and our drilling rigs are CE certified. Therefore, our products are sought after by clients from America, Mexico, Brazil, Columbia, Singapore, Malaysia, Indonesia, Australia, Russia, Ukraine, Germany, India, and France, to name a few. In addition to quality equipment, we also provide excellent customer service. We can design and manufacture drilling rig and drilling tool according to customers' specific demands, and we also offer equipment installation and user training services, as well as OEM service. Our helpful staff is ready and waiting to assist clients in selecting the proper equipment for their particular application.
If you are interested in our products, please contact us. We welcome worldwide customers and sales agents to partner with us.