Anchor Drilling Rig
Application
YG-50 anchor drill rig is equipped with a fully hydraulic operated top drive power head. It is applied to drill heavy duty pretension anchor hole at side slopes of impounding reservoir in water power stations, railways and highways, and to drill drainage hole and grouting pile hole on roof of tunnel. It can also be used to prevent geologic calamity such as landslide disaster and rock collapse, etc. In addition, the drilling rig is ideal for drilling high pressure jet grout holes.
Features
1) The anchor drill rig has great drilling capacity, wide range of application, fast drilling speed, and high drilling efficiency, as well as good capability of dealing with accidents.
2) The output spindle of the top drive power head is designed with an extension mechanism, which can effectively protect drilling tools.
Through setting the power head and hole's top plate toward the opposite direction, the drilling rig can be used to create elevation angle holes and create holes with larger inclination range.
3) A set of front-mounted adjustable columns on drill frame is used for adjusting the height of mast front-end, which makes it convenient to align with hole site.
4) The anchor drill rig comes with separated structure design, so it can be simply assembled and disassembled and is convenient for transportation. In addition, it can achieve remote control operation and is an ideal solution to reduce operators' working intensity during drilling work.
5) The mast can be fixed onto staging directly using auxiliary parts like horizontal axle and buckles, which ensures light equipment weight and convenient transportation.
6) Equipped with hydraulic motor and pump of world famous brand, and other key components of Chinese famous brand, the anchor drill rig is provided with stable running performance, reliable quality and long service life.
In addition, equipment wearing parts have good interchangeability due to their high grade of standardization and universal, which makes equipment maintenance convenient.
7) YG-50 anchor drilling rig is fully hydraulic driven and can achieve stepless speed setting. It is simple for operation, convenient for maintenance and has few wearing parts.
8) The drilling equipment is suitable for various drilling methods such as carbide bit drilling, auger drilling, DTH hammer drilling, follow-up casing drilling, etc.
Main Technical Specifications of Anchor Drilling Rig
1) Hole depth: 60-40 m
2) Hole diameter: 100-168 mm
3) Drilling rod Diameter×Length: 73×1500 mm; 89×1500 mm
4) Hole angle range: 0-120º
5) Output speed of top drive power head (forward and reverse): 5-120 r/min
6) Output torque of top drive power head: 2000 Nm
7) Feeding stroke of top drive power head: 1800 mm
8) Mast slide stroke :500 mm
9) Maximum lifting capacity of top drive power head: 30 kN
10) Maximum thrust force of top drive power head :15 kN
11) Rated pressure of hydraulic system :20 Mpa
12) Motor
Type Y180M-4
Power 18.5 kW
13) Overall dimension of main machine: 3000×1000×1500 mm
14) Weight :1000 kg
15) Weight of the heaviest component :200 kg
YG-50 anchor drilling machine obtained two items of national patent. Chinese patent number:
ZL03222451.6
ZL02264792.9
Cases

Prevent land slide at Beijing-Fuzhou expressway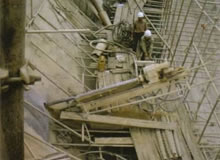 Prevent land slide at an express way of Yunnan province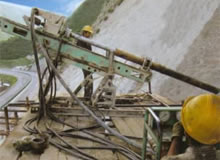 Working at Baise water conservancy center site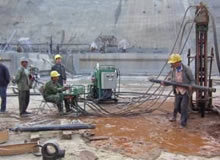 Terms of Trade
1. MOQ: 1pcs
2. Delivery cycle: 0-7 months
3. Shipment port: Wuxi / Shanghai
4. Payment terms: Cash On Delivery
5. International markets: The United States, Mexico, Brazil, Colombia, Singapore, Malaysia, Indonesia, Australia, Russia, Ukraine, kyrgyzstan, Germany, France, Morocco, Armenia, Oman, Tanzania, Sri Lanka, India, Bangladesh, Pakistan, Congo, Sudan, and more.
Jinfan is a professional anchor drill rig manufacturer in China. In addition, we also produce engineering crawler drilling rig, water well drilling rig, geothermal drilling rig, jet-grouting drilling rig, underground drilling rig, and others.
Company Brief: JINFAN Drilling Equipment Company is a renowned drilling rig manufacturer and supplier in China. Our most popular products include a hydraulic anchor drill rig, hydraulic crawler drilling rig, water well drilling rig, core drilling rig, in addition to a variety of related drilling tools including our DTH hammer, pulling machine, eccentric casing bit and wire-line core barrel. Our drilling machines are commonly used in GSHP systems, engineering geological investigation, water well construction, water conservation, and petroleum and natural gas exploration industries.