Anchor Drilling Rig
Application
YGS-120 anchor drill rigs are equipped with two fully hydraulic operated top drive power head. They are widely used to drill large pretension anchor wire holes, large diameter anchor pipe holes, and grouting holes at the side slopes of impounding reservoir in water power stations, railways and highways, as well as small sized foundation pile hole, etc.
Features
1. With dual-top drive power head, the anchor drill rig can achieve various drilling methods, such as:
(1) While drilling a hole in 30-50m thick fractured zone and other troublesome zones, the drilling rig can achieve rotary percussion drilling by connecting the rear power head with the inner drilling tool and DTH hammer. Meanwhile, the front power head rotates the casing pipe for protecting the hole wall.
(2) While drilling a hole in ravelly ground, quicksand layer and silt layer, the anchor drill rig can achieve different types of drilling by using drilling tools like conventional rotary drill tool and long anger drill tool. Meanwhile, the front power head drives the casing pipe to rotate for hole wall protection.
(3) While drilling a hole in intact formation, the drilling equipment can use only one power head to achieve rotary drilling and rotary percussion drilling.
2. The anchor drill rig features high lift capacity and output torque, and has high drilling efficiency.
3. It is equipped with a clamping device and a breakdown device to achieve mechanical break-down of drill rod and casing pipe. This significantly reduces labor intensity and increases drilling efficiency.
4. Building-block style structure design and twin hydraulic pump system are distinct features of our anchor drill rigs. So, the equipment is convenient for mounting and dismounting, and is especially suitable for working in mountainous areas and other places with inconvenient traffic conditions.
Main Technical Specifications
1) Hole diameter: 130-250mm
2) Hole depth: 120-80m
3) Hole angle range: TypeYGS-120: 10º - 45º; Type YGS-120A: 10º- 90º
4) Output speed of top drive power head
Rear head: 3-130r/min
Front head: 3-22r/min
5) Output torque of top drive power head
Rear head: 3500Nm
Front head: 10000Nm
6)Mast length: 3500mm
Feed travel of top drive power head: 1300mm
Mast slide stroke: 600mm
Compensatory stroke of front head: 400mm
7) Recommend rod size(diameter×length): 89×1000mm, 114×1000mm
Recommend casing size (diameter×length): 168×1000mm, 178×1000mm, 194×1000mm
8) Maximum lifting capacity of top drive power head: 100kN
Maximum thrust force of top drive power head: 52kN
9) Breakdown toque of casing: 15kNm
10) Motor Type: Y180L-4×2, Power: 44kW
11) Rated pressure of hydraulic system: 18MPa
12) Weight: 2500kg
Weight of the heaviest component: 400kg
13) Overall dimension of main machine (Length×Width×Height): 3500×1200×1600mm
Drilling hole with follow-up casing drilling method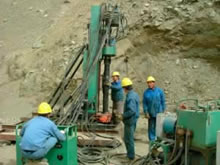 Terms of Trade
1. MOQ: 1pcs
2. Delivery cycle: 0-7 months
3. Shipment port: Wuxi / Shanghai
4. Payment terms: Cash On Delivery
5. International markets: The United States, Mexico, Brazil, Colombia, Singapore, Malaysia, Indonesia, Australia, Russia, Ukraine, kyrgyzstan, Germany, France, Morocco, Armenia, Oman, Tanzania, Sri Lanka, India, Bangladesh, Pakistan, Congo, Sudan, and more.
Jinfan is a professional anchor drill rig manufacturer in China. We offer a wide variety of products that includes our geothermal drilling rigs, water well drilling rig, engineering crawler drilling rig, jet-grouting drilling rig, underground drilling rigs, and more.
Company Brief: JINFAN Drilling Equipment Company is a renowned drilling rig manufacturer and supplier in China. Our most popular products include a hydraulic anchor drill rig, hydraulic crawler drilling rig, water well drilling rig, core drilling rig, in addition to a variety of related drilling tools including our DTH hammer, pulling machine, eccentric casing bit and wire-line core barrel. Our drilling machines are commonly used in GSHP systems, engineering geological investigation, water well construction, water conservation, and petroleum and natural gas exploration industries.