Hydraulic Surface Core Drilling Rig
Application
YDX-300 hydraulic surface core drilling rig is suitable for conventional diamond core drilling in geological exploration fields, such as exploration of metal and nonmetal mines, coal fields and gas fields, etc. It can drill holes from vertical to elevation angle through various sorts of formation including soft, hard and broken or fractured formation by wet, dry and flush drilling methods.
Features
1. This drilling equipment has a wide range of rotary speed which can be changed from high to low steplessly, and is suitable for various drilling methods such as carbide bit drilling and diamond bit drilling, etc.
2. Entirely hydraulic drive and operating make it have stepless speed-changing, great drilling capability, wide range of applications, rapid borehole speed and high work efficiency, especially while using wire-line core drilling method.
3. We can offer hydraulic core drilling rigs in various forms, such as skid mounted, trailer mounted and crawler mounted ones, for customers to choose from.
Skid mounted type has the advantages like good mobility, small size and light weight, so it is convenient for disassembly and assembly as well as transportation. It also suitable for lineate remote operation.
Trailer and crawler drilling rigs has better mobility and transportability as compared with skid type, and crawler type equipment offers precise hole center positioning.
4. A series of optional metering devices are provided for accurate drilling control, such as pressure gauges, oil pressure gauges, rotary speed and feeding speed gauges, etc.
5. This full hydraulic top drive power head core drilling rig is equipped with world-famous brand hydraulic components including hydraulic motor, pump, and operating valve, etc. This ensures reliable equipment performance and long service life.
Specifications

1. Working range
(A) Drilling depth with rod diameter NQ: 300 m
(B) Drilling depth with rod diameter BQ: 400 m
2. Power Head
(1) Rotational torque and rotational speed (Diesel Engine)
I. Rotary speed / rotational torque: 120-160 Rpm / 2150-1560 Nm
II. Rotary speed / rotational torque: 230-310 Rpm / 1120-740Nm
III. Rotary speed / rotational torque: 80-650 Rpm / 560-350Nm
IV. Rotary speed / rotational torque: 900-1150 Rpm / 310-200 Nm
(2) Feed travel: 1800 or 3500 mm
(3) Thrust Force: 35 kN
(4) Lifting Capability: 50 kN

3. Hydraulic winch
Main winch Hoisting capacity: 32 KN
Wire line winch Hoisting capacity: 12 KN
4. Mast height (from crown to ground level):8.5 m (3500mm Feeding Stroke)
5. Power
Diesel Engine: 75 kW / 2200rpm
Electromotor: 30 kW / 1500rpm
6. Total weight of the machine
Total weight of YDX-300L (Crawler Mounted): About 5000kg
Total weight of YDX-300T (Trailer Mounted): About 3100kg
7. Mud pump (Optional): BW-150
8. Chassis of Drilling Rig: Skid / Trailer / Crawler Mounted (According to customer's requests)
Terms of Trade
1. MOQ: 1pcs
2. Delivery cycle: 0-7 months
3. Shipment port: Wuxi / Shanghai
4. Payment terms: Cash On Delivery
5. International markets: The United States, Mexico, Brazil, Colombia, Singapore, Malaysia, Indonesia, Australia, Russia, Ukraine, kyrgyzstan, Germany, France, Morocco, Armenia, Oman, Tanzania, Sri Lanka, India, Bangladesh, Pakistan, Congo, Sudan, and more.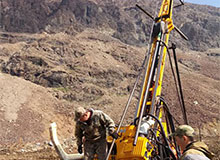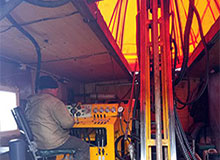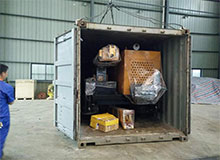 Jinfan is a professional hydraulic surface core drilling rig manufacturer in China. In addition to core drill, we also offer water well drilling rig, exploration drilling rig, anchor drill rig, engineering crawler drilling rig, jet-grouting drilling rig, and more.
Company Brief: JINFAN Drilling Equipment Company is a renowned drilling rig manufacturer and supplier in China. Our most popular products include a hydraulic anchor drill rig, hydraulic crawler drilling rig, water well drilling rig, core drilling rig, in addition to a variety of related drilling tools including our DTH hammer, pulling machine, eccentric casing bit and wire-line core barrel. Our drilling machines are commonly used in GSHP systems, engineering geological investigation, water well construction, water conservation, and petroleum and natural gas exploration industries.