Hydraulic Surface Core Drilling Rig
Application
This hydraulic surface core drilling rig can be equipped with a diamond drill bit to offer core drilling operations in metal and nonmetal solid deposit exploration. It can also be equipped with a carbide bit for core drilling.
To illustrate, the drilling equipment is ideal for boring vertical holes and inclined holes as well, and it is also used in hydrology water well drilling, petroleum and gas field exploration, cement grouting for dike and dam construction, tunnel ventilation system and water drainage system construction, etc.
Main Features
YDX-800 hydraulic exploration drilling rig is designed with a fully hydraulic driven power head. Compared to traditional spindle type mechanical driven rigs, this one has advantages as given below.
1. The drilling equipment has high rotary speed, reasonable rotary speed range, various rotary speed grades and big torque in low speed. Hence, it is very suitable for small diameter diamond bit core drilling. Meanwhile, it can meet the requirements of large diameter carbide bit core drilling and the hole-making requirements for variety of engineering projects.
2. YDX-800 hydraulic exploration core drilling rig has a long travel which is helpful to reduce the reversion frequency of drilling rod, avoid block of drilling rod and thus improve productivity.
3. It has a simple structure, a light weight and is convenient to move.
4. Convenient, simple, flexible and reliable operations helps reduce labor intensity greatly.
5. It needn't to be provided with a special inclined tower when drilling inclined holes. It can also realize raising two rods at one time.
6. The installation and mounting of the drilling rig is convenient and fast, as there is no need for specialized drill tower. This largely reduces the preparation time.
7. The drilling rig can be equipped with different types of chassis as per customers' requirements, so we can offer skid type (separated type), trailer type and crawler drilling rigs.
Specifications

1. Working range
(A) Drilling depth with rod diameter BQ (55.5):1050 m
(B) Drilling depth with rod diameter NQ (75): 800 m
(C) Drilling depth with rod diameter HQ (95): 550
(D) Drilling hole inclined angle: 0~-90º
2. Drill head output
(1). Rotary speed and rotational torque
I. Rotary speed: 108-144Rpm

II. Rotary speed: 237-345Rpm
III. Rotary speed: 437-636 Rpm
IV. Rotary speed: 750-1100 Rpm
(2). Maximum rotational torque: 4320 Nm
(3). Feed travel: 3500 mm
(4). Feeding Force: 55kN
(5). Lifting Force: 108kN
3. Hoist
(1) Main hoist
Lifting capacity: 75 KN
Lifting speed: 40 m/min

(2) Wire line hoist
Lifting capacity: 12 KN
Lifting speed: 120m/min
4. Engine (Diesel) rated power: 125kw
5. Total weight of the machine
Total weight of YDX-1200T: About 7800kg
Total weight of YDX-1200T: About 6600kg
6. Mud pump (optional): BW-150
7. Chassis of Drilling Rig: Skid / Trailer / Crawler Mounted (According to customer's requests)
Original Imported Operation Valve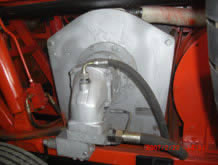 Original Imported Main Winch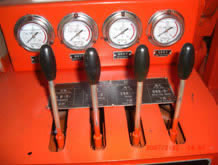 Terms of Trade
1. MOQ: 1pcs
2. Delivery cycle: 0-7 months
3. Shipment port: Wuxi / Shanghai
4. Payment terms: Cash On Delivery
5. International markets: The United States, Mexico, Brazil, Colombia, Singapore, Malaysia, Indonesia, Australia, Russia, Ukraine, kyrgyzstan, Germany, France, Morocco, Armenia, Oman, Tanzania, Sri Lanka, India, Bangladesh, Pakistan, Congo, Sudan, and more.
Jinfan is a professional hydraulic surface core drilling rig rig manufacturer in China. We offer not only core drill, but also geothermal drilling rig, anchor drill rig, engineering crawler drilling rig, jet-grouting drilling rig, exploration drilling rig, and others.
Company Brief: JINFAN Drilling Equipment Company is a renowned drilling rig manufacturer and supplier in China. Our most popular products include a hydraulic anchor drill rig, hydraulic crawler drilling rig, water well drilling rig, core drilling rig, in addition to a variety of related drilling tools including our DTH hammer, pulling machine, eccentric casing bit and wire-line core barrel. Our drilling machines are commonly used in GSHP systems, engineering geological investigation, water well construction, water conservation, and petroleum and natural gas exploration industries.